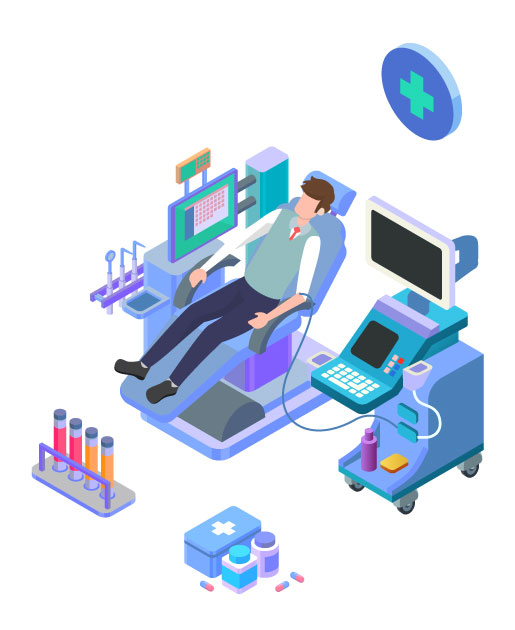 Hemodialysis (HD) removes wastes and excess fluids from the body. During treatment, a machine extracts blood and pumps it through tubes to a dialyzer (the semi-permeable membrane that cleans the blood).
To carry out this treatment, you must remain seated or lie down next to the HD machine. A nurse will connect the vascular access (fistula or catheter) to move the blood to the dialyzer, which with the help of a dialysis solution, will remove wastes and excess fluids from the blood.
Your treating physician will determine the duration of each session, based on what is required for your state of health. On average, sessions last four hours and they are held three times a week, on a scheduled basis, at the kidney clinic.
How does Hemodialysis improve your lifestyle?
- You will have four free days per week, when you will not have to worry about dialysis.
- You will be able to travel if you coordinate your dialysis in advance at a different kidney clinic at your place of destination.
- You can exercise and play most sports after consulting with your doctor.
What are the advantages of Hemodialysis?
- The treatment is carried out by qualified staff.
- Regular contact with other HD patients.
- Normally three treatments a week and four days free.
- No machines or accessories at home.
Conozca más acerca de Hemodiálisis y el cuidado de su salud renal en nuestra sección de VIDA